The vows you make are to love and cherish each other for the rest of your lives. Church is the best place to make such an important commitment.
To get married at All Saints you need to ensure that you are entitled to a wedding here and that you are happy with our approach to wedding ceremonies.
We have a wedding booklet that is designed to give you all the information you need at this stage.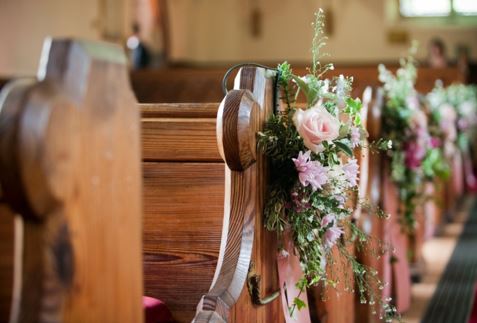 The first steps to booking your wedding...
You will need to read our wedding booklet and then arrange to meet the vicar. It is also a good idea to come along to our services and this is especially important if you need to attend church in order to qualify for a wedding at All Saints.
Please complete our online enquiry form to provide us with your details and we will send you the booklet and register your enquiry.
Some common questions about weddings
| | |
| --- | --- |
| Q | Do we have to be baptised and church members? |
| A | No, as long as you both recognise that it will be a Christian marriage, and that your vows will be made in the Name of God, Father, Son and Holy Spirit. |
| Q | What if we live outside the Parish, even a long distance away? |
| A | First of all, please consider all of the Church of England parishes in which you are entitled to be married because of an established connection. There is some helpful information on this website: www.yourchurchwedding.org (see: 'More churches to choose from'). It is sometimes possible for people who do not have a connection with Thornton Hough to be married here; our marriage information booklet explains this in more detail. |
| Q | I am a Roman Catholic. Can I be married at All Saints? |
| A | Yes, it is no different from any other marriage couple, although some of your family members may have views about a Church of England wedding. If you wish to include any elements of a Roman Catholic ceremony, you must discuss the options with the vicar before booking your wedding. |
| Q | One of us has been married before. Can we get married in Church? |
| A | This is possible, depending on the circumstances. Assuming you are legally divorced, you must discuss this the vicar who will consider this carefully and in confidence. |
| Q | Can we have our reception in the Parish Hall? |
| A | Yes. Please contact our Parish Hall administrator to make a booking You would need to arrange a catering company separately and we can advise on this. |