New to church? Here's what you can expect
A church service is a set time when Christians gather. We worship God by saying prayers, singing hymns, reading and reflecting on the Bible, and encouraging one another. The word 'church' actually means 'assembly' and is about the people not specifically the building.
We always welcome new people and try to make things easy for you to follow and take part without feeling self conscious. It's a good idea to arrive about 10 minutes before the start time so you can find a seat and look at the hymn book and service book. You can sit anywhere you like (apart from on the platform where the minister and choir sit!) and if you have to arrive late or leave early that's okay.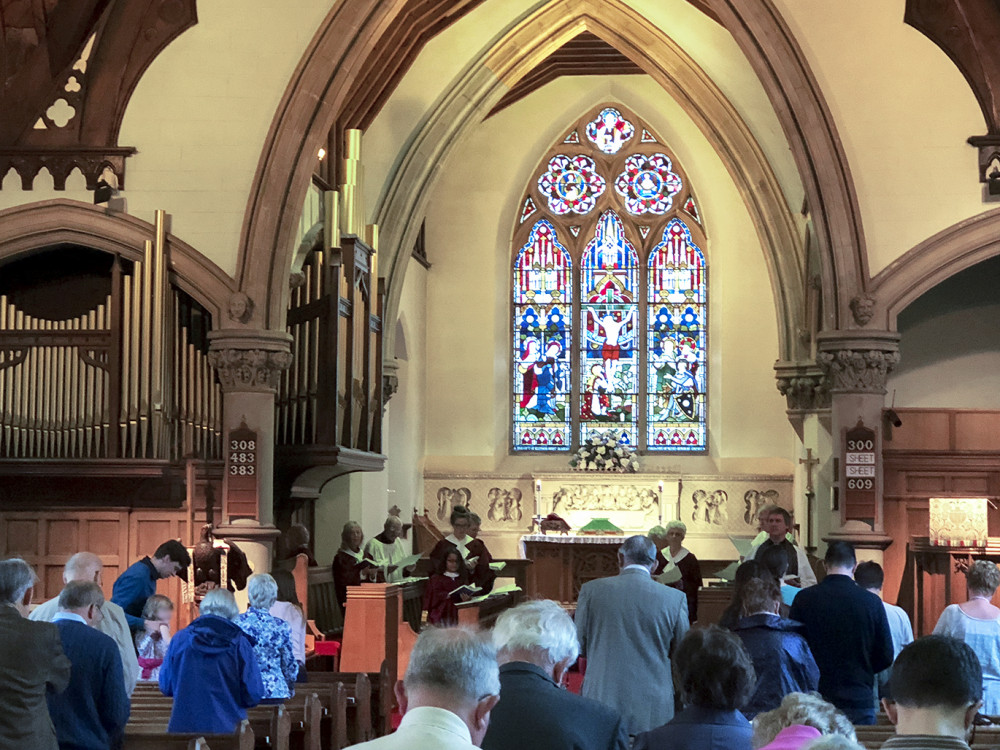 What is the pattern of services?
If you want to know what is coming up this week or on a future date, click here to see the calendar of services.
To find out what the different services are like, please see below on this page.
Facilities
Children are welcome at all our services, especially Sundays at 10:30am. Please click here to discover the ways that we support families.
Our toilet facilities are in the hall and not in the main church building. It is a short walk out of the church and across the church car park. We have assistants at the back of church who can help you.
We have a hearing loop system in the church.
There is stepless access to the church from the car park and the entrance to the site in Church Road.
We have a lightweight wheelchair which can be used to bring someone from the church car park into church; please ask our sidespeople in church or contact the office in advance if you wish.
We have some space for wheelchairs or prams in the main seating area.
Large print service and hymn books are available for most of our services; please ask the sidespeople who greet you when you arrive.
Sundays at 8:00am Early morning worship
This service takes place on the first and third Sundays of each month and uses the order set out in the 1662 Book of Common Prayer. The prayers and liturgy are 'said' without any hymns. We share in Holy Communion. The service lasts around 35-40 minutes. We do not serve refreshments at this service.

Sundays at 10:30am
This service is suitable for children and adults of all ages and children.
The service uses modern langauage and is often a Holy Communion Service (Co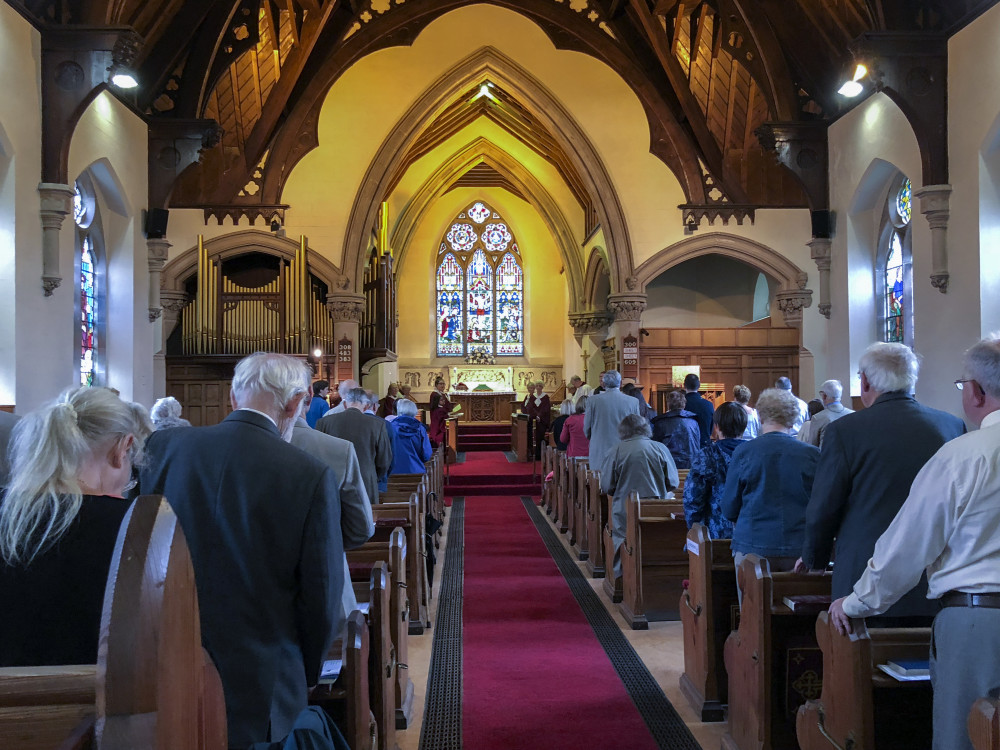 mmon Worship). Music is led by our Organist (Director of Music) along with our church choir, and we sing a variety of hymns, old and new.
The service lasts around 60-70 minutes and is followed by refreshments in the church hall.
.
Please click here for a calendar for our schedule of services..
Sundays at 6:30pm Evening worship
We hold an evening service on the second Sunday of the month. This is usually a service of Choral Evensong (following the order of the 1662 Prayer Book) and occassionally it is a service of Holy Communion. The evening service is similar in style to the 10:30am but usually has a smaller congregation. The service lasts around 60-70 minutes .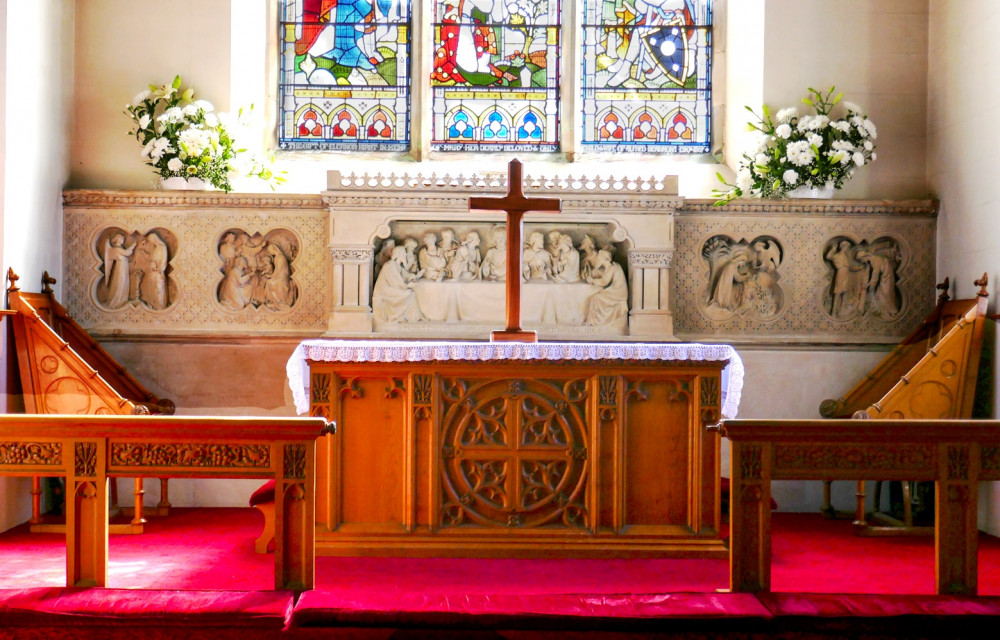 Wednesdays at 10:30am Midweek worship
The midweek service is small and intimate and we sit in the choir stalls which has a lovely friendly atmosphere. There are no hymns and the service lasts around 35-40 minutes. Please come early for refreshments, served in church. Sometimes the Wednesday service is replaced by a coffee morning or a midweek festival. Please click here to check the calendar of services.
Special Festivals
There are a variety of other services for special festivals, often with Holy Communion and usually with hymns. We usually mark the following occasions:
Epiphany (January)

Presentation of Christ in the Temple (February)

Ash Wednesday (46 days before Easter Day)

Mothering Sunday (3 weeks before Easter Day)

Passiontide (2 weeks before Easter Day)

Palm Sunday (1 week before Easter Day)

Maundy Thursday (3 days before Easter Day; at St George's church)

Good Friday (2 days before Easter Day)

Easter Day

Ascension Day (Thursday, 40 days after Easter)

Pentecost (Sunday, 7 weeks after Easter)

Trinity Sunday (1 week after Pentecost)

Harvest Festival (Last Sunday in September)

All Saints' Sunday (Sunday between 30th Oct and 5th Nov)

Remembrance Sunday (nearest to 11th Nov)

Advent Sunday Carols Service (4 Sundays before Christmas Day)

Christingle (2 Sundays before Christmas Eve)

Nine Lessons and Carols (Sunday before Christmas Eve)

Christmas Night (Late service at 11:00pm on Christmas Eve)

Christmas Day (25th December)
To see the calendar of services please click here